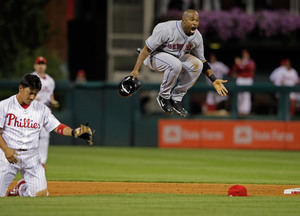 Marlon Anderson goes apeshit as he is called for interference on the last play of the game. Endy Chavez would have scored easily, but Shawn Green got doubled up as a result of Anderson's ill-advised 'take-out' slide. Actually, Anderson tried to tackle Phils' 2B Iguchi. Game over.
I celebrating by listening to WFAN, your flagship station for the crying, weeping, moaning, complaining New York Mets fan.
Thanks to my Dad, I'll be there for the fourth and final game of this crucial series. More on that later.