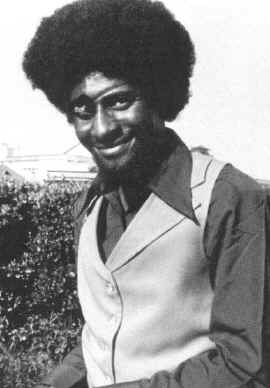 At
MPomy HQ
there's so much good music, I can't hardly believe it. Firstly, you've got a massive installment of
Jazz & Blues Fridays
with the late great
James Booker
. You don't have to look at this picture for too long to know that Booker means business. He was insane!! Mixing the boogie woogie piano of his home town New Orleans with a gifted classical talent, and then smearing the whole thing around with lots of drugs and alcohol. It ultimately proved to be a deadly combination, but the music he made in the meantime is spellbinding. Check out the TWO DISCS' WORTH over at
Jazz & Blues Fridays
- start your week off right!
And while James Booker is the real highlight, the
Hobbit Hole Music
produced, arranged, composed and performed by yours truly is maybe worth a listen. I may not be in the 2213 Hobbit Hole, the spirit of that crappy little room at our old apartment lives on. Check out
Creative Returns
, an improv which marks my first recording at our new abode, and
Set Up
, which celebrates the remarkable job
DiPinto Guitars
did on making my old Gibson SG sound young again.